For after hours emergencies please call 519-837-1214
Small Mammals
Lafebervet is a great site for information for small mammals – http://www.lafebervet.com/emergency-medicine/small-mammals/
Rabbits and Guinea Pigs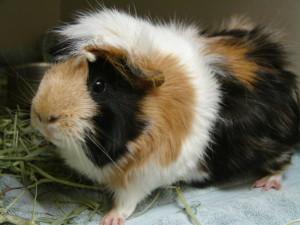 These small mammals have become quite popular. There are days when we have more rabbits in our hospital than any other species! The quality of care and medical understanding of these creatures has increased dramatically and here at Campus Estates Animal Hospital we have certainly seen the increase in life expectancy as a result. However, rabbits and guinea pigs do require specific care from small mammal veterinarians in Guelph. This ranges from housing (to prevent injury) and sores to appropriate diet (to file their ever growing teeth and maintain balance in their gastrointestinal tract). Our Avian and exotic Veterinarians recommend twice yearly examinations to help ensure that you are on the right track and to help in the early detection of disease. We have assembled some articles and websites to arm you with quality information to help maintain happy and healthy pets.
Guinea Pigs make great little pets if socialized properly. They make adorable trilling noises when touched by a human companion and are happy to live in small social groups. One male to a couple of females is ideal (be sure to neuter your male!). Guinea pigs need lots of fiber like rabbits and can commonly experience Vitamin C deficiencies and molar disease.
Please talk to us about training your rabbit. This is not only fun to do but can be very useful for grooming, vet visits, nail trimming and medication administration. We would be happy to go over some tips with you about training your rabbit. You can also purchase Bunny Training 101 to help take you through the steps.
Karen pyror; http://store.clickertraining.com/?source=kpctnavbar is also a useful source of information for clicker training.
Ferrets
Ferrets are great companion animals for responsible teenagers and adults. They are extremely playful and maintain a kitten like personality throughout their life. As youngsters ferrets are at risk for ingesting tiny foreign materials found on the ground and under furniture, so the play areas need to be maintained free of such debris meticulously. Ferrets have small intestinal tracts and so GI obstructions are a common issue requiring surgery. Ferrets are unfortunately not long lived and are predisposed to a number of illnesses that tend to onset from 4 to 6 years of age, endocrine diseases being the most common. Our Guelph ferret veterinarians have assembled some articles and websites to arm you with quality information to help maintain happy and healthy pets.
We recommend twice yearly examinations of your ferret with one of our avian exotic veterinarians.
Chinchillas
Chinchillas are absolutely adorable pets but you should know what you are getting yourself into before purchasing. They are not hypoallergenic – they do shed and they take dust baths regularly! Although they appear cute and cuddly, chinchillas in general are not sedentary lap pets.
Hedgehogs
Adorable but spikey! These little critters can be friendly and rewarding pets with patient socialization, but left to their natural tendencies are shy and nocturnal. When handled, unless well socialized, they often ball up into a spikey hissing bundle. Hedgehogs are not appropriate pets for young children. The most common health issues seen are various forms of cancer, often before even 2 years of age.
Rats, Mice, Gerbils, Hamsters and Degues
These small rodents are popular since they require less work than some of our other pets, and they require less space.
Rats are naturally friendly, intelligent and social. In our opinion, they are one of the best small companions for older children, teenagers and adults. Rats commonly suffer from respiratory disease and cancers.